The DigiCorpus Clinique Module
For use in Rehabilitation or Activity Centers.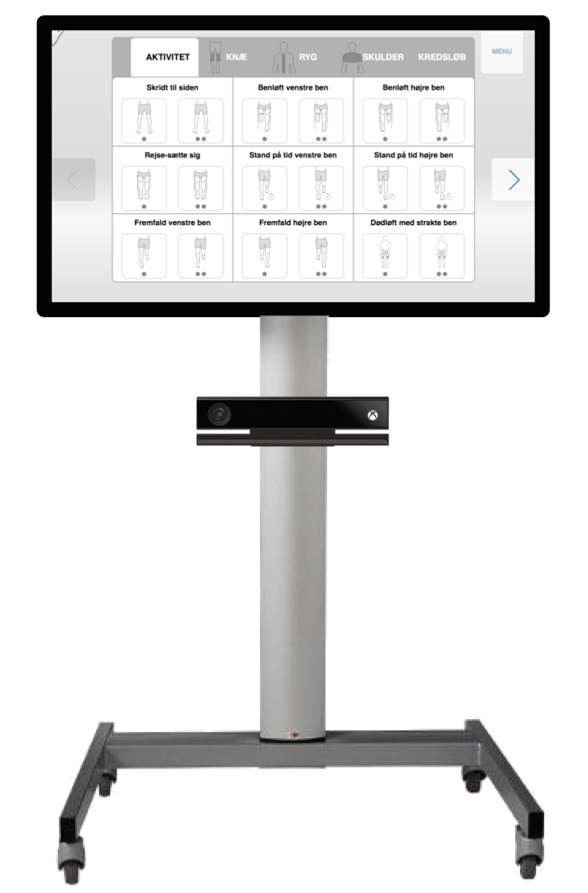 The Clinique Module tracks the user's movements using the camera situated below the screen. The system is operated with gestures, using either hand or by selecting programs on the attached numerical keyboard.
Feedback During and After Exercises - Our unique feedback system has been developed with the input of occupational- and physio-therapists. The user receives instant feedback while performing an exercise, comparable to the feedback from an actual therapist.
Operation is Simple:
The Patient enters a unique user number and gets access to a personalized individual program
The Patient perform the exercise with simultaneous feedback
And sees the result of the training, including specific areas of focus.
Self-Monitoring - On completing an exercise the user receives a summary of the three most relevant focus areas for optimal improvement.
Training Programs
- The Therapist makes a specialized individual exercise program for the patient via
DigiCorpus Dashboard
and is able to monitor generate patient training statistics.
Exercises and Updates
Exercises - DigiCorpus Center Trainer contains over 150 exercises in the areas of:
Activity Exercises
Knee Exercises
Back Exercises
Shoulder Exercises
Cardio Exercises
Easy Setup and Continous Automatic Updates - The Center Trainer needs only a power outlet, and will update itself continually and automatically with new exercises via the internet.
Contact - Business Cases
We help develop concrete business cases for your municipality, region or state. Our solutions are also available for on-site testing and review. Please contact: