Co-Creation
DigiCorpus organizes Experience Exchange Meetings, – where professionals share their knowledge and experience, and discuss new input to DigiCorpus solutions.
Thus, new exercises for incorporation inro the systems are detailed by actual occupational therapists and physiotherapists.The current version compirses over 150 exercises.
As new technologies and tools in the fiels occupational therapy and physiotherapy are developed, they will be integrated into DigiCorpus' solutions, and tested jointly with the DigiCorpus Experience Exchange Groups.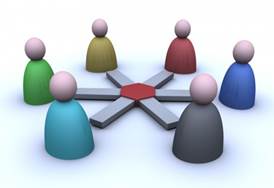 Development Philosophy - Co-Creation:
DigiCorpus solutions are continually updated, automatically, via the Internet. Our long-term development perspective, draws on the latest research and innovation in this area. This is the users guarantee that the DigiCorpus solutions will always be a market leader.
Our philosophy is on of Co-Creation, whereby we integrate customer input, in realtion to the substance, design and usability of the systems, into our own long.term development strategy. Thus, the users of these systems impact on their maintenance and ongoing development in meeting the specific needs of daily life.
Read more about our research under Technics.