DigiCorpus Home Trainer
Easy-to-carry shoulder bag - weighing only 3.3 kg (7.3 lbs) - Now training with feedback in the users own home is made easy.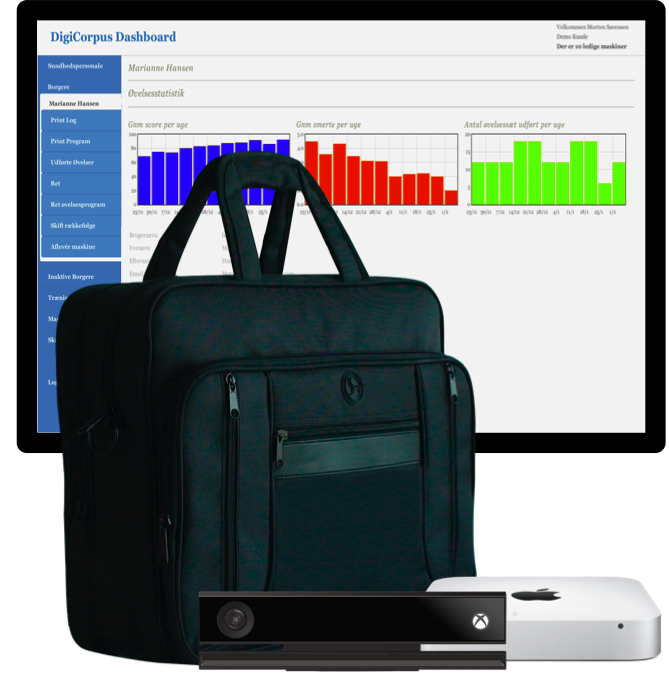 DigiCorpus Home Trainer consists of a small bag, containing a mini-computer, a camera, and cables, to connect to the user's own TV.
The unique feedback system has been developed in close collaboration with occupational- and physiotherapists. The user is provided with instantaneous feedback, which closely simulates feedback from an actual therapist. DigiCorpus Home Trainer provides instant physio-therapeutic feedback, both during and after exercising.
Installation and set up is simple via enclosed instructions.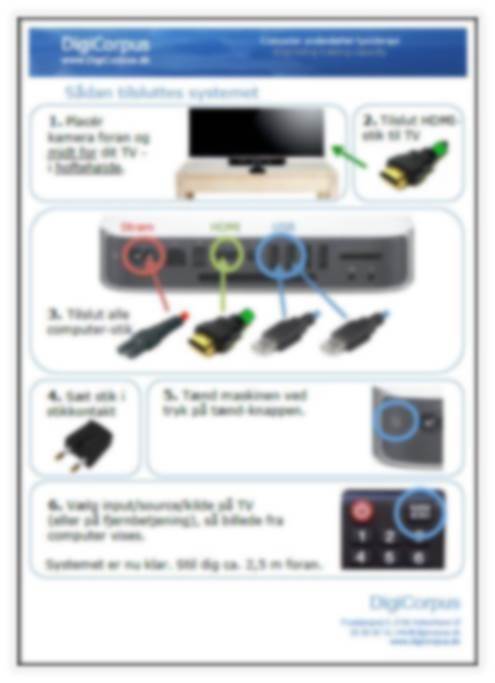 Quick-Start-Guide
Exercises - DigiCorpus Home Trainer comes equipped with 585+ exercises in the following training areas:
Activity Exercises
Knee Exercises
Back Exercises
Shoulder Exercises
Cardio Exercises
Optimal Self-monitoring - After performing an exercise the user is presented with a summary of the three most relevant focus areas, providing tailored feedback for optimal improvement.
Training Programs are Included - The DigiCorpus Dashboard module makes it is possible to both monitor the user's home training, and prepare training programs for the Home Trainer.
Cell Phone Coverage - DigiCorpus Home Trainer is in wireless contact (via internet modem) with our servers, which are situated in 'safe haven'.
Contact - Business Packages - Significant economic benefits can be achieved. DigiCorpus' solutions will both improve the quality, and optimize the quantity of training. At the same time, human resources can be optimized, to meet user needs.
We help develop concrete business packages for your municipality, region, state or clinic. Our solutions are also available for on-site testing and review. Please contact us at: